- Japanese Kimono Dress Wedding Plan -
New proposal for wedding ceremony in Japanese Kimono Dress
he bride is a gorgeous Japanese Kimono Dress
The groom is a white tuxedo made from white solid
Mom is Japanese Tomesode Dress
It is a special plan only for Dahlianty.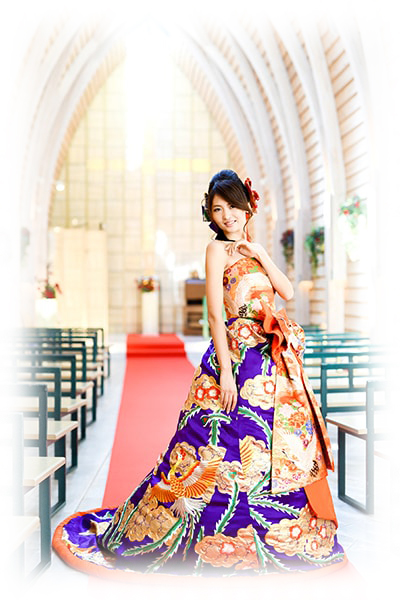 [Japanese Kimono Dress]
A Japanese Kimono Dress is a dress made from Japanese kimono fabric. Kimono is difficult to dress. It makes it a modern dress style. Make the kimono of Japanese traditional costumes more familiar. Dahlianty's Japanese Kimono Dress enhances the atmosphere of gorgeous.

Dahlianty uses real kimono fabric.

I'm thinking about design patterns with the utmost awareness of pattern connections. Produced the most brilliant dress for women.

It is a new style called Japanese Kimono Dress, not just kimono remake. It is popular as a wedding dress for bridal gowns!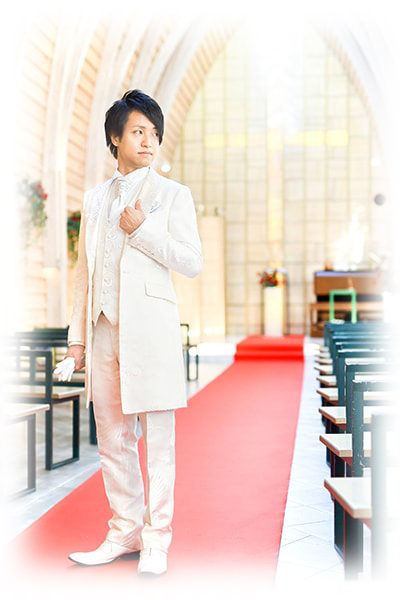 [Kimono Tuxedo]
The wedding groom tuxedo will be tailored from pure white kimono.
The solid white tuxedo span>, made from solid white with luxurious embroidery, is a very luxurious and vivid one. Silent white is originally used for weddings span>, so it goes very well with weddings.

Please create your own personality.

You can purchase. You can also tailor your favorite designs from the desired white in full custom-made.
Do the temporary sewing . The size is perfect and stylish.

Small items such as Thailand and pocket chiefs and cufflinks are also made with kimono fabric!
Three pieces of solid white tuxedo are great works born from two solid white kimonos.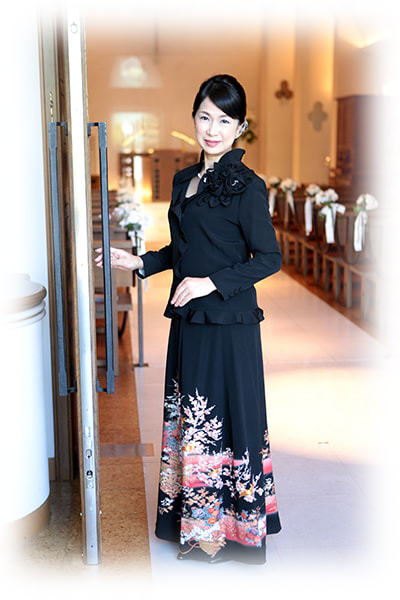 [Japanese Tomesode Dress]
Costumes that the bride and groom wear instead of Tomesode at the wedding.

Japanese Tomesode Dress is easy to wear with a sense of clothes. Easy to move and less tired and has been very popular in recent years.

The most important thing in the Japanese Tomesode Dress is the hem pattern. Dahlianty is tailored to the Japanese Tomesode Dress with the pattern connected as much as possible.

All our Japanese Tomesode Dress are one item. The craftsmen carefully unwind the Tomesode one by one and tailor it over time while considering the pattern.
[Japanese Kimono Dress Wedding Needs]
*Unique and unique wedding plan
*Ideal for receptions and gorgeous second parties
*Kimono filled with mother's feelings
*Your own wedding dress with Furisode
*Person who is not good at white wedding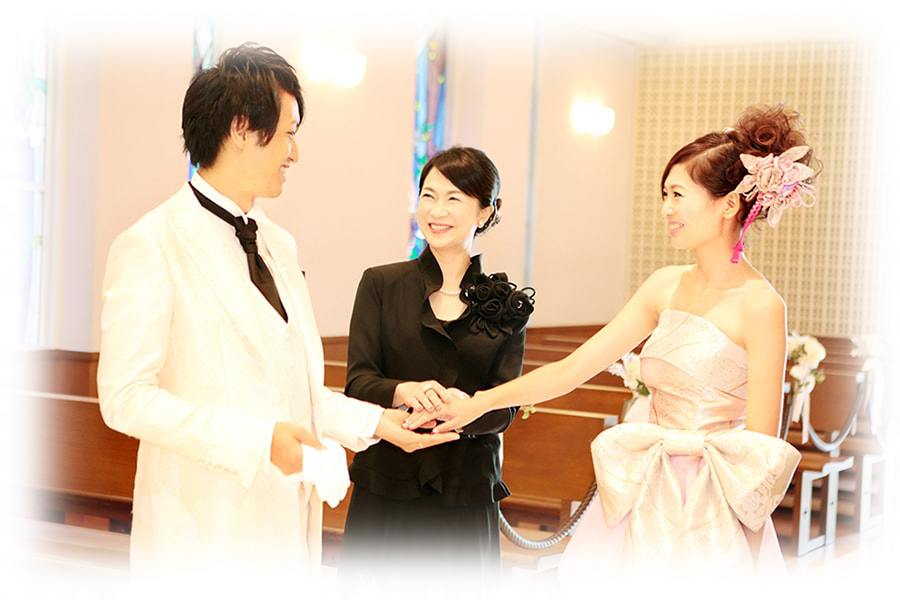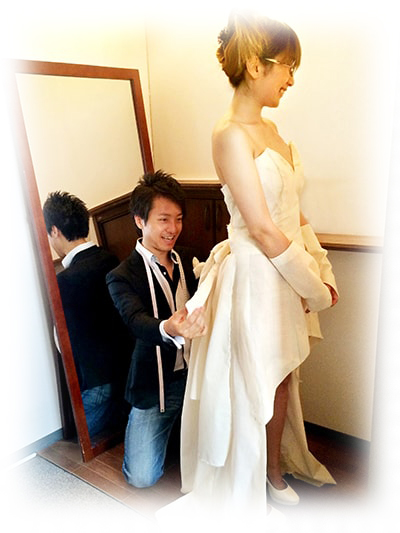 [Custom-made]
Dahlianty's custom-made products are designed, patterned and sewn in-house.
Regarding the 100% made in Japan, it ranges widely from the highest quality full order to the reasonable pattern order.
In custom-made, basting is used to create a size and silhouette that suits each customer's body. We will meet customers' requests by sharing images using design drawings and samples at meetings.

Distant orders can be made with temporary stitching.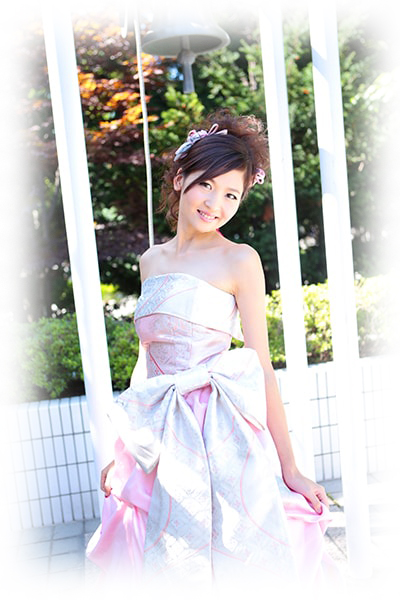 [Buy]
Dahlianty Japanese Kimono Dress and white tuxedo are one item.
You can change the size when purchasing or renting. Can be worn with a custom-made fit.
[Japanese Kimono Dress wedding style]
[Kimono Tuxedo style]
[Japanese Tomesode Dress style]
- About resizing at the time of buy -
Dahlianty's Japanese Kimono Dress is one item . We have a slightly larger size to accommodate more customers.
3 sizes, sleeve length, shoulder width, length can be changed. When stuffing the length, you can stuff it with the waist without cutting the hem pattern.
The designer will propose a unique repair of the Japanese Kimono Dress.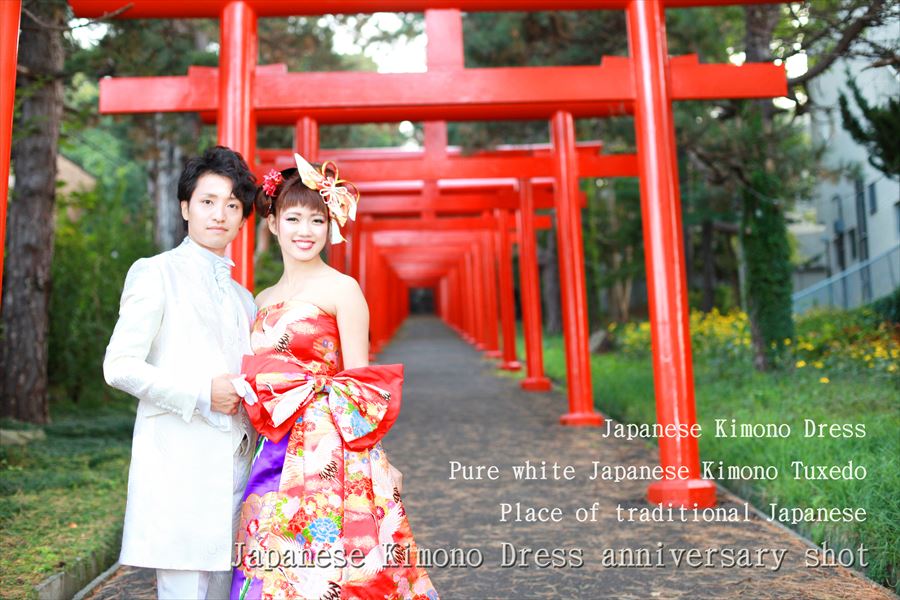 [Kimono dress wedding plan needs]
I want to give a kimono dress and tuxedo wedding with the bride
I want to wear Japanese clothes but the kimono is not suitable
Not only the bride but also the groom wants to give a ceremony with stylish costumes
I can't dress my kimono overseas
I want to wear a costume with a personality different from the others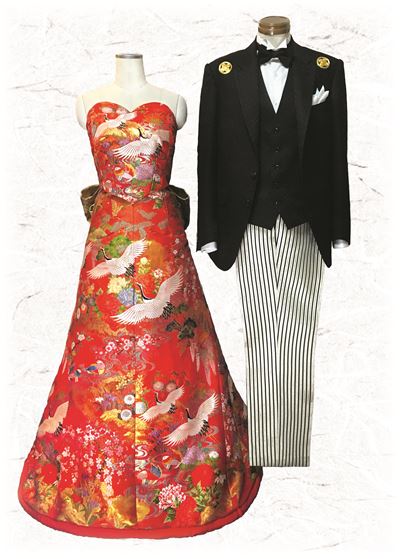 [Red Uchikake Kimono Dress & Haori Hakama Tuxedo]
The groom's tuxedo is made from a hakama, a staple of wedding ceremonies.
The hakama tuxedo inherits the kimono atmosphere. You will be the best partner in kimono dress.

A hakama is a costume that is originally used in a Japanese wedding ceremony. It is a perfect match for a wedding.

The photo shows a model with a short length, but it is possible to increase the length.
The groom's costume will also be in full order. You can arrange your favorite design in your size.
The photo has a crest on the shoulder. It can be located elsewhere.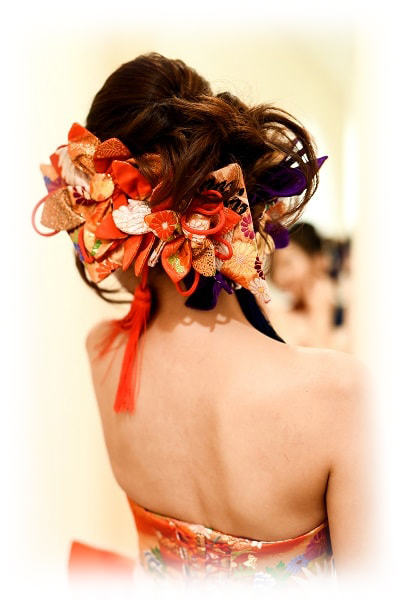 [Kimono accessories]
It is the same kimono fabric when ordering, purchasing or renting. Kimono head accessories will be created according to your preference.

How about upper rank as an accent for Kimono Dress and Japanese Tomesode Dress?

Produces hairstyles vividly and produces total customers.

From the remaining kimono tuxedo and kimono fabric, we will make accessories such as ties, pocket chiefs, cufflinks.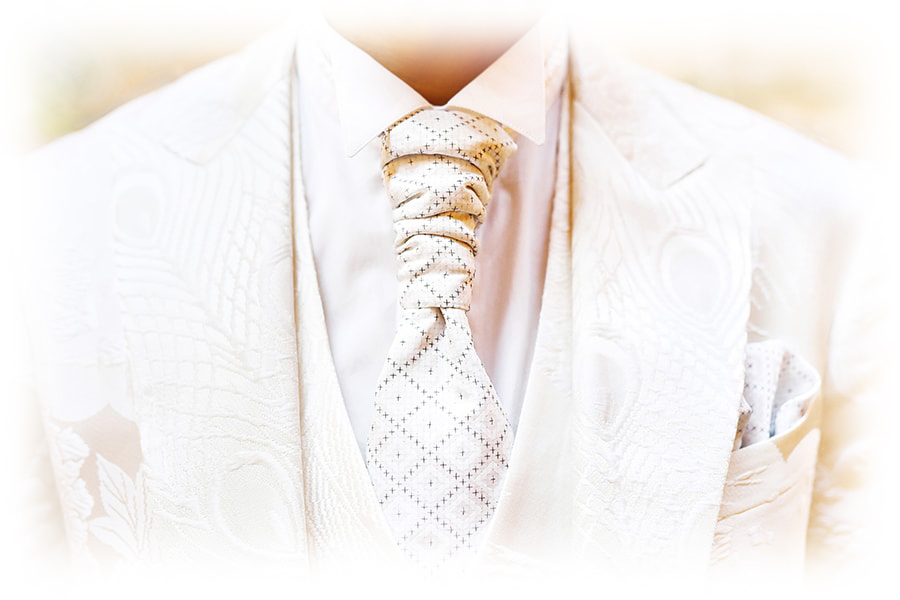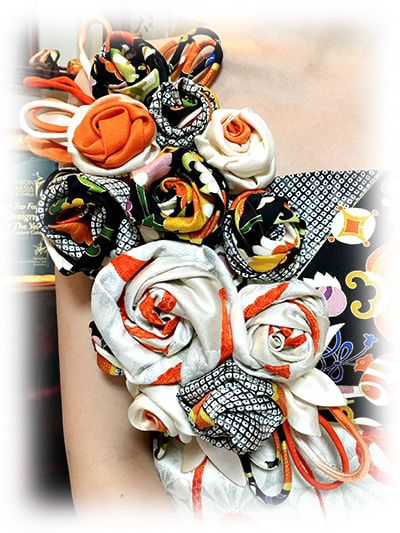 [Ribbon and corsage creation]
When ordering / purchasing, we will make accessories such as Japanese Kimono Dress and Japanese Tomesode Dress and same kimono fabric.We will create large ribbons for dress and corsages attached to the chest and waist to suit your taste.

You can choose to create a different fabric, and the band ribbon, which is tailored from the band and attached to the waist, is also a popular item.

You can also choose the specifications such as detachability and sewing.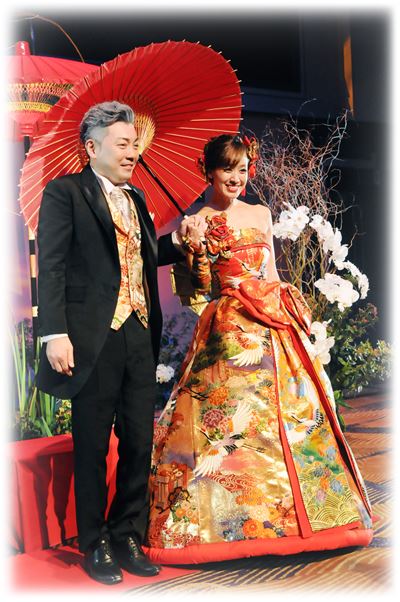 [Customer introduction]
Introduction of customers who have actually experienced the kimono dress wedding plan.
The groom wears a kimono with a crest and a kimono tuxedo in an antique obi.
The bride is a gorgeous gorgeous kimono dress with two red strikes and three gold belts.
Two mothers wore a tosode dress with a corsage.
It is a kimono dress wedding plan for the whole family. It became a wedding reception where you can feel Japanese traditional Japanese modern.


Click here for details.
[Option]
Japanese Kimono Dress wedding doll made with matching fabric
[Attached items available]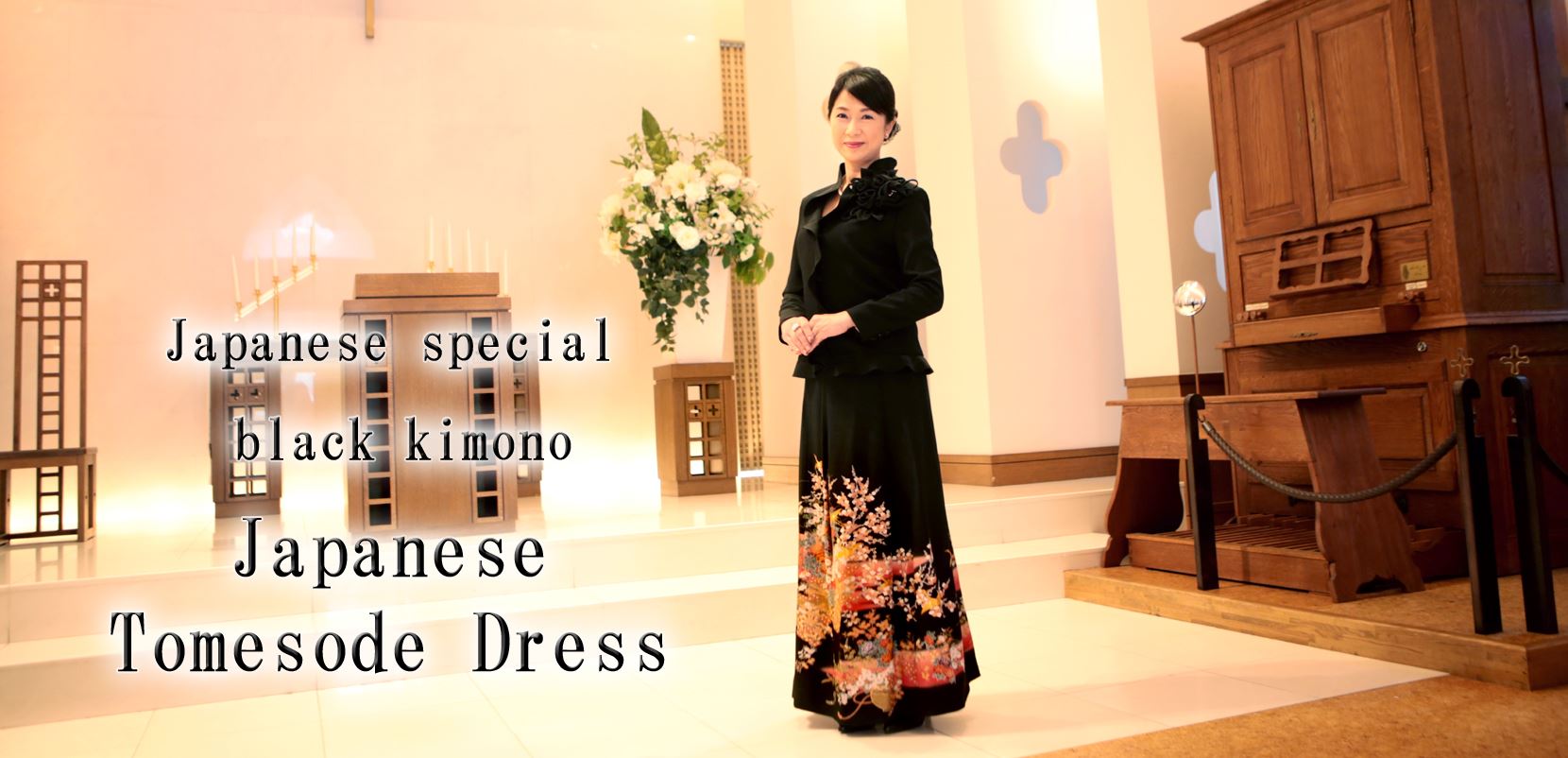 [Japanese Kimono Dress wedding plan]
A new style of kimono dresses for weddings and receptions.
The bride is a gorgeous luxury Kimono Dress.
The groom is a full-fledged kimono tuxedo.
The mother is a Tomesode dress that inherits the style of Tomesode into modern style.
I arrange Japanese traditional costumes in a modern way. It is a wedding plan that allows you to enjoy Japanese modern with your family.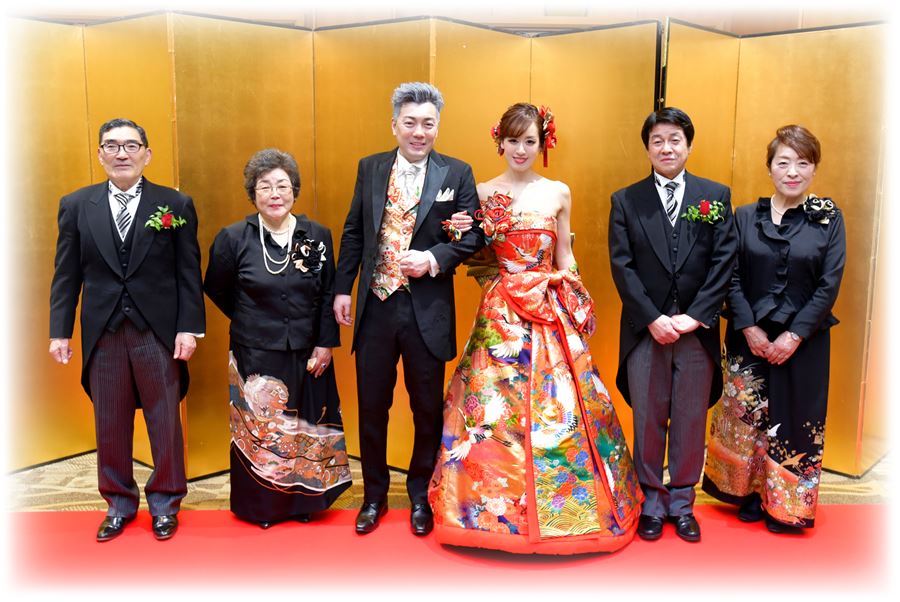 [Japanese Kimono Dress wedding plan]

Groom $2,900-above
Bride $2,500-above
Mother $1,700-above
[All tailoring fees (by fabric)]


Groom $1,900-above
Bride $1,900-above
Mother $1,200-above
[Kimono dress wedding plan discount amount]
2 Kimono dress wedding plan adaptation from attention,$200 discount for each additional one
Special $950 discount for bride and groom and two mothers
For fathers, sisters, daughters and guests, there is no limit on the number of guests.
Special discounts are available for those who provide photos. Please consult us in advance.