Japanese Kimono Dress Uchikake [Crane]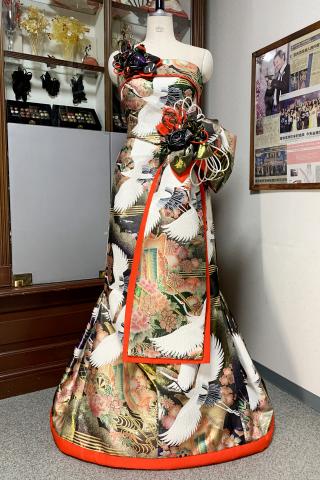 A nice Kimono Dress with an iridescent hook and a bold crane


Goods number :
1076
Goods name :
Japanese Kimono Dress Uchikake [Crane]
Our shop can be tailored to your size
Orders can be received by E-mail.
Please do not hesitate to ask questions.

[Point]
*White piping under the bustier and hem
*Red piping at the skirt hem
*3 sets of corsage, hair ornament and glove

[Separate accessories] Regular price ⇒ Set price with dress
* Chest large corsage $850⇒$700
* Hair ornament with medium tassels $850⇒$700
*Uchikake Glove $750⇒$600
*With two sets of hair ornaments and gloves $2,500⇒$1,700
*Black Glove $1,100⇒$850
* In the case of a set of 2 gloves, the black gloves are +
$750
*Pannier $300
*Remaining fabric $100


[Detail]
| | |
| --- | --- |
| Types of Kimono | Uchikake |
| Pattern | Crane |
| Color | Iridescent |
| Cloth | Metal Polyester |
| Thickness of the cloth | Thick |
| Lining | Polyester |
[Size]
Posterior full length
150cm , 59.1inch

Dress length
129cm , 50.8inch

Bustier bust
82cm-101cm , 32.3inch-39.8inch

Bustier waist
62cm-81cm , 24.4inch-31.9inch

Dress skirt length (under-hem) under-waist is 3inch
122cm , 48inch

Dress skirt length,Vertical distance when worn(under-hem) under-waist is 3inch
119cm , 46.9inch

Skirt waist
The possible range of your clothes repair :
57cm-97cm , 22.4inch-38.2inch

Skirt hip
104cm , 40.9inch

Skirt hem-width
258cm , 101.6inch

Bustier length front
32cm , 12.6inch

Bustier length back
20cm , 7.9inch

Globe wrist
13cm-21cm , 5.1inch-8.3inch

Around the elbow of the glove
17cm-32cm , 6.7inch-12.6inch

Glove length
30cm , 11.8inch


The size can be corrected at the time of purchase.

Click here for an explanation of the size

① Posterior full length: From the back of the neck to the front hem
② Length: From the top of the dress to the front hem
③ Dress length: From the back of the dress to the long hem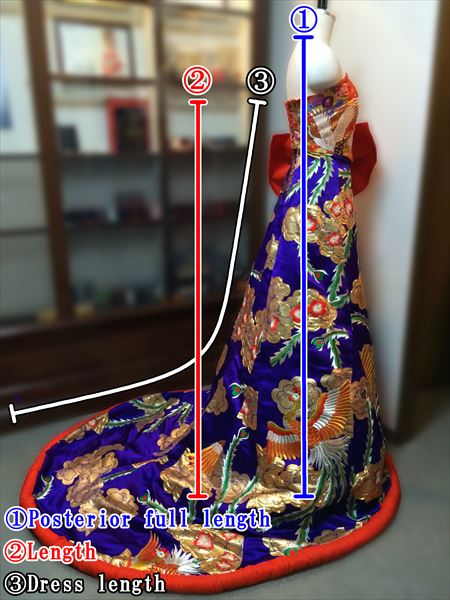 Upper bust: The distance of one round of the top of the chest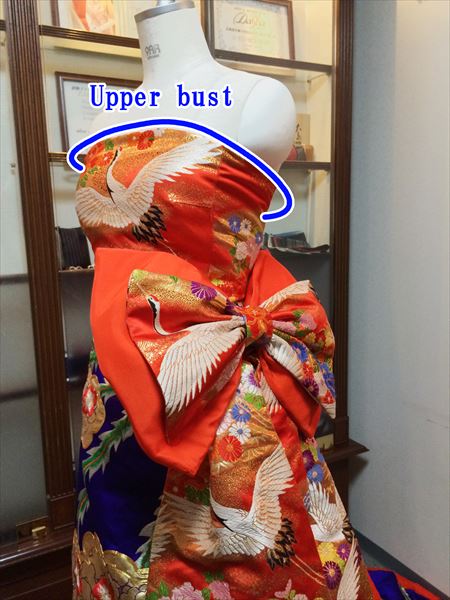 A nice Kimono Dress with an iridescent hook and a bold crane.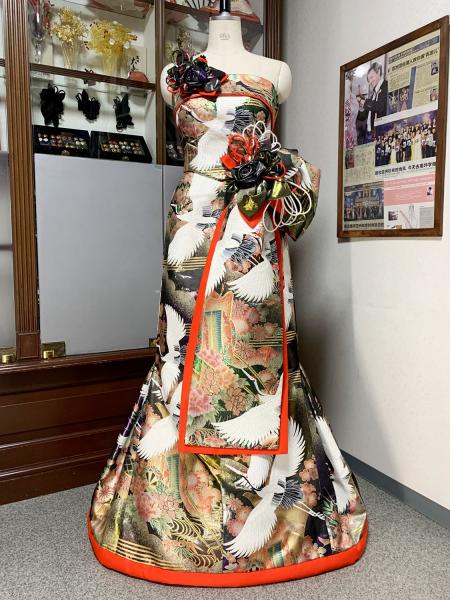 Collar design inspired by the Kimono collar. The red color makes the woman even more beautiful.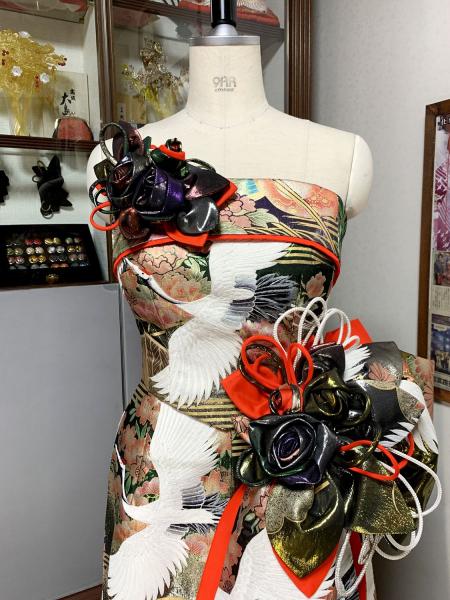 Removable rose corsage is attractive.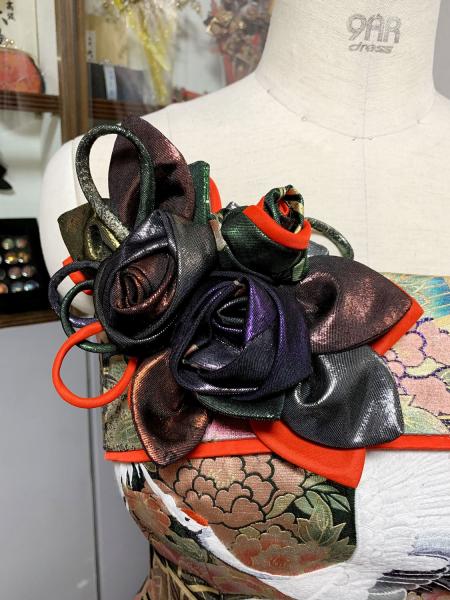 Dahlianty can customize your size when purchasing a Kimono Dress.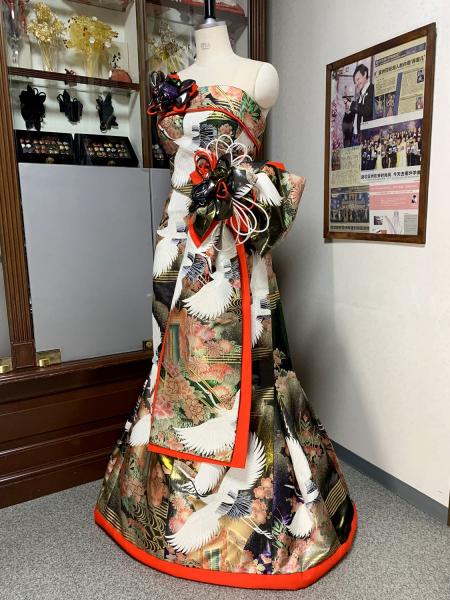 It is removable. Ribbon of deformed design with corsage is stylish.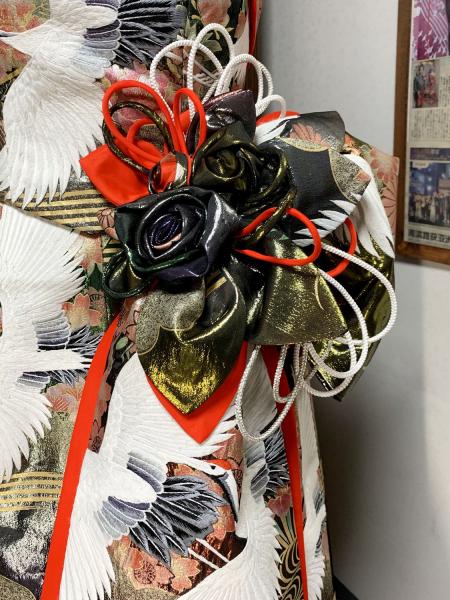 A kimono dress that is also recommended for the wedding dress that is the bride's costume at the wedding.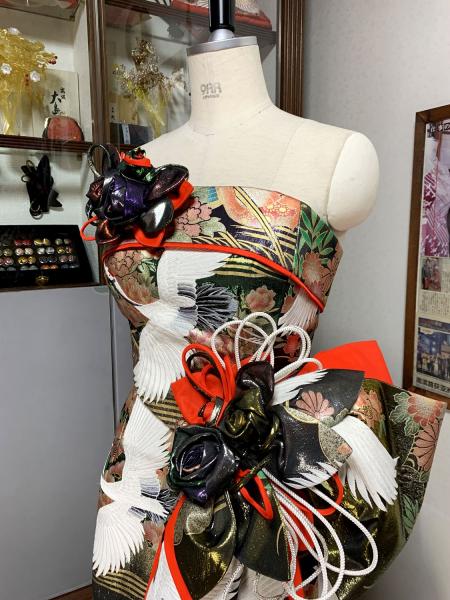 A new style called Japanese Kimono Dresses that goes beyond the kimono remake.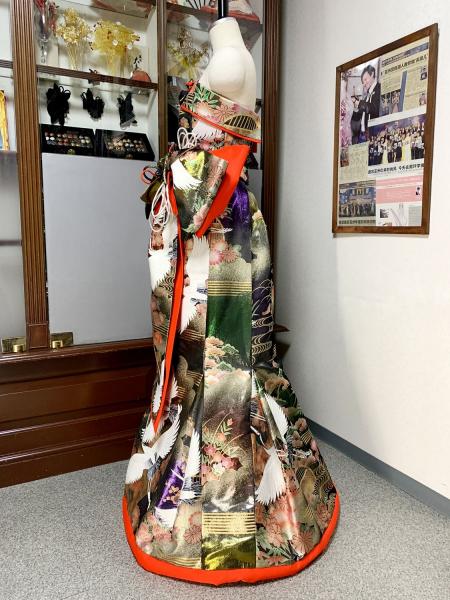 It is popular because it can be easily worn at weddings and events overseas.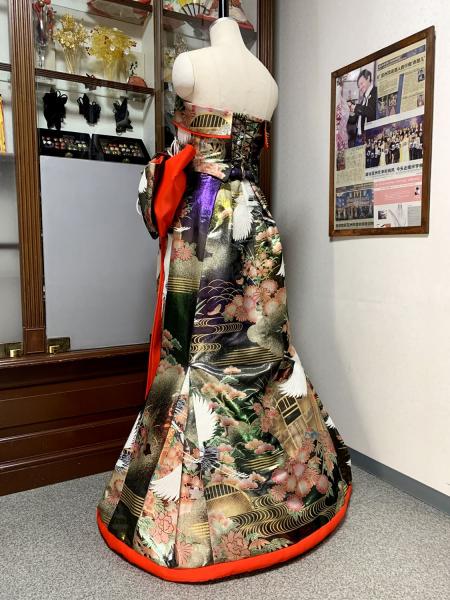 The size can be adjusted with the back string.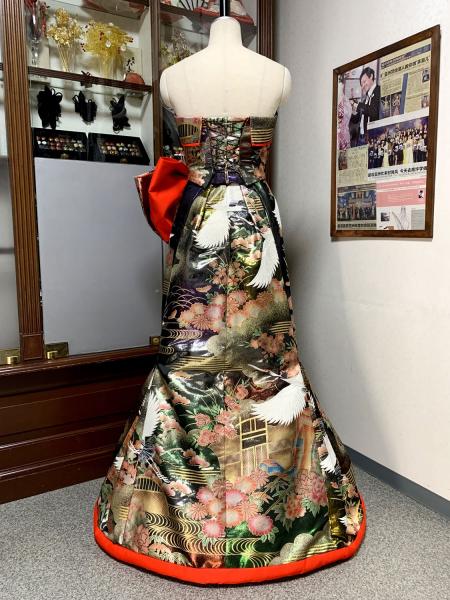 It comes with a size adjustment cord, but you can add a zipper when purchasing so that you can easily wear it yourself.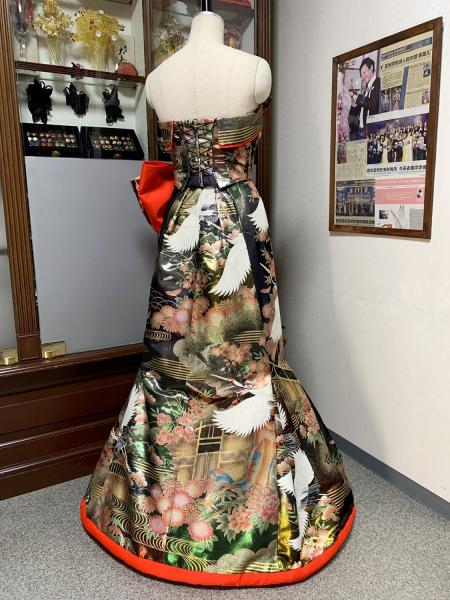 A crane pattern represented by a Kimono. A very auspicious Japanses Kimono Dress.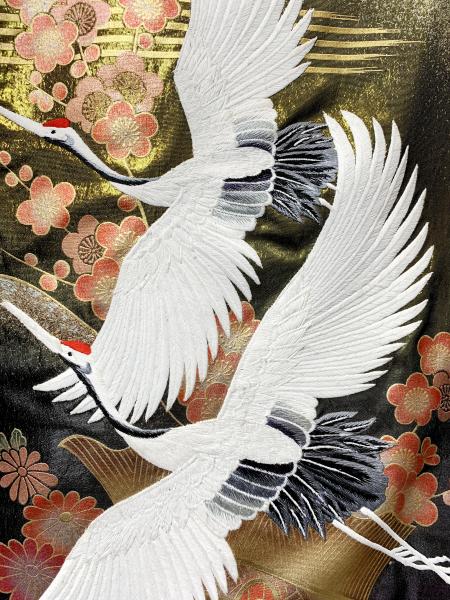 The hem has the same volume as the Kimono.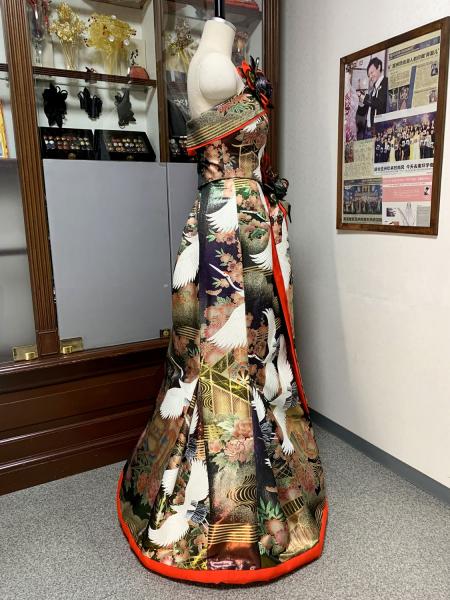 Design that seems to be popular in stage costumes and event costumes. Recommended as a national or traditional costume for the contest.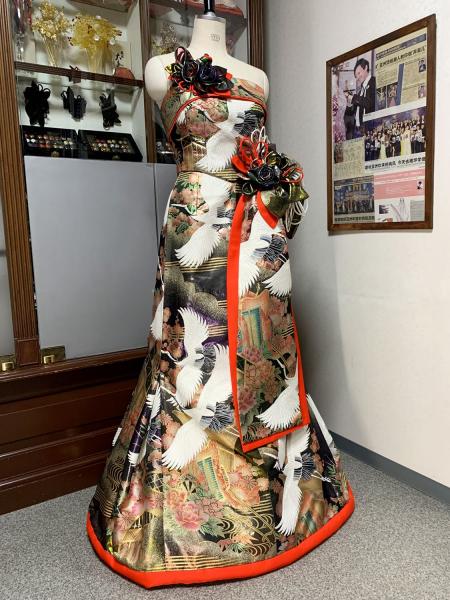 When making to order, you can also make a kimono dress of the same design with another kimono fabric. Because it is a full order, you can arrange it to your favorite design.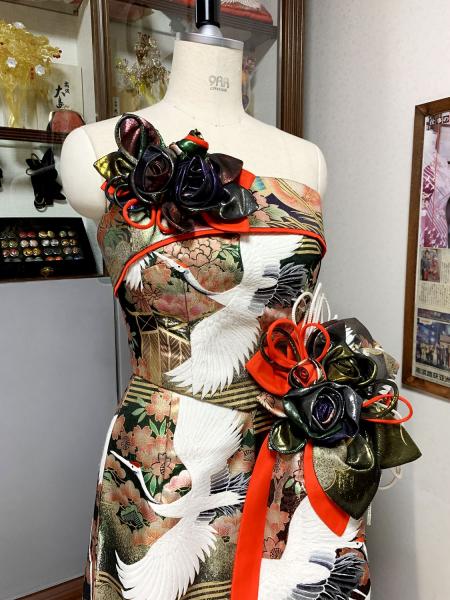 Wearing a corsage and hair ornaments on the chest together will create a more luxurious atmosphere.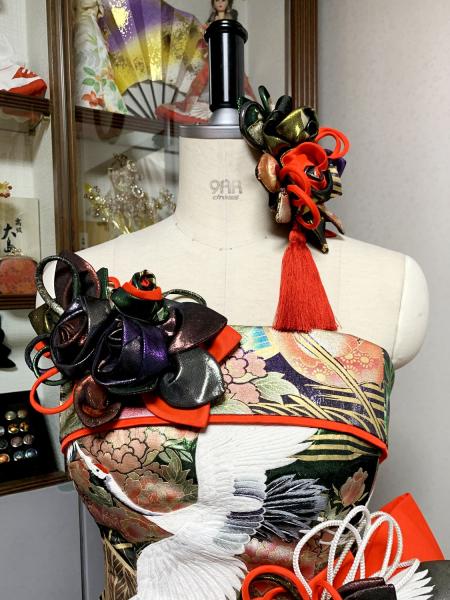 "Separate accessories" Kimono gloves make this Kimono Dress even more luxurious.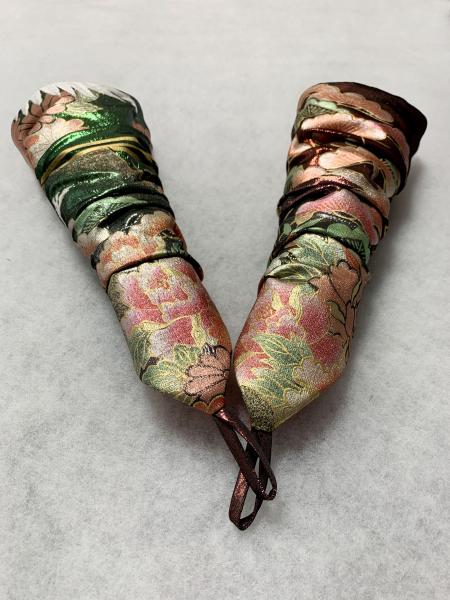 You can adjust the size with a string.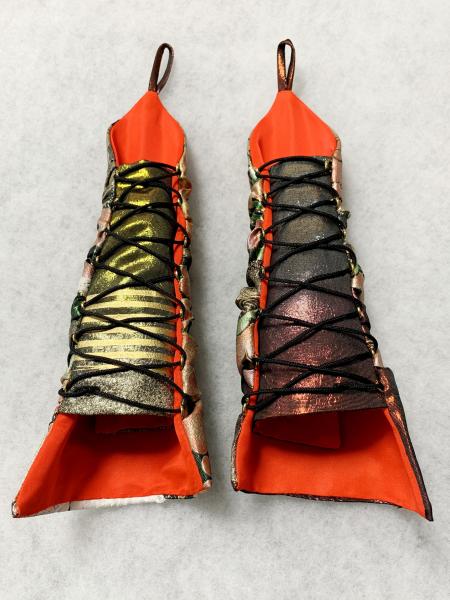 * Hair ornament with medium tassels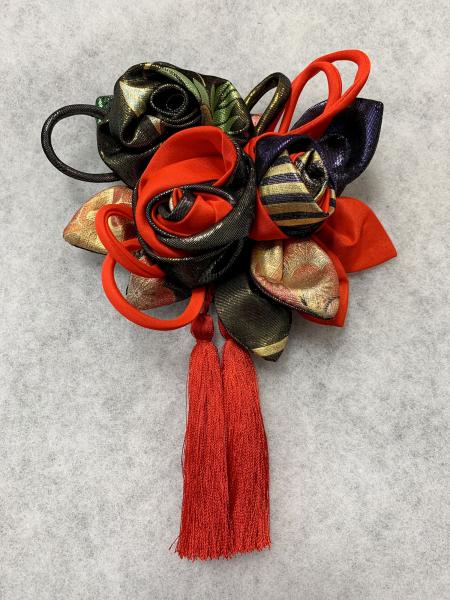 * Chest large corsage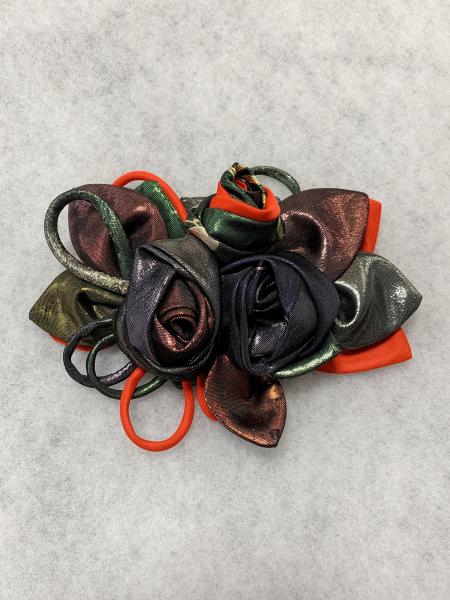 *Black Glove
I also used a black kimono with embroidery, a burgundy with a woven pattern, and a uchikake of this kimono dress. Luxurious kimono gloves made from 4 types of kimono fabrics.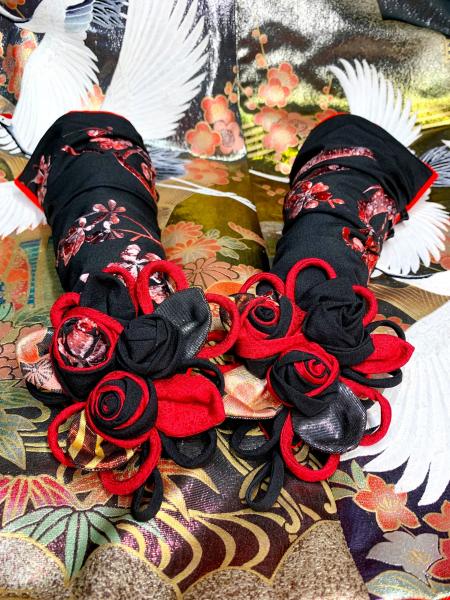 The edging of the glove is a red line. By using the same red kimono, it goes well with the kimono dress.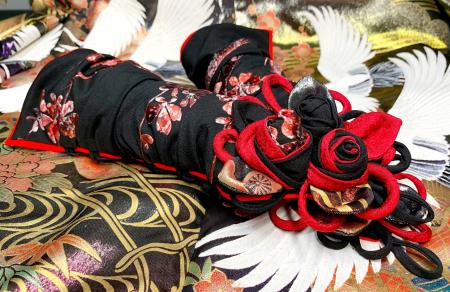 You can adjust the size with a string.
Lining is black polyester. This is an example of wearing a hair ornament and glove model.
FTotal coordinated photo of gloves and hair ornaments.