Japanese Kimono Dress Uchikake [Crane]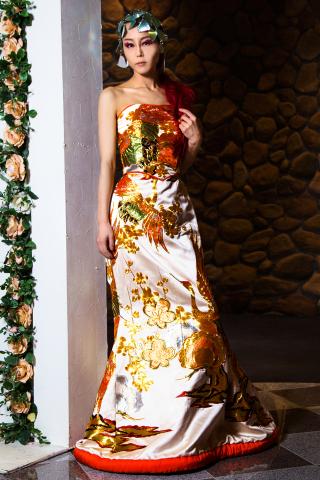 Twist a bold trumpet/Mermaid strapless beige uchikake Japanese Kimono Dress.
Working with accent red meat color.



Goods number :
1030
Goods name :
Japanese Kimono Dress Uchikake [Crane]
Our shop can be tailored to your size
Orders can be received by E-mail.
Please do not hesitate to ask questions.

[Point]
* Gorgeous random ribbon
* Slender Mermaid Line
* Red lining fabric is used for the lining
* High-quality gold thread
* Uchikake hem at the hem

[Accessories]
* Ribbon

[Separate accessories] Regular price ⇒ Set price with dress
*Hair ornament small $600⇒$400
*Hair ornament $750⇒$550
Set of 2 hair ornaments $900⇒$850
*Remaining fabric $300


[Detail]
| | |
| --- | --- |
| Types of Kimono | Uchikake |
| Pattern | Crane |
| Color | Champagne Gold |
| Cloth | Silk |
| Thickness of the cloth | Thick |
| Lining | Silk |
[Size]
Posterior full length
164cm , 64.6inch

Dress length
148cm , 58.3inch

Bust
77cm-104cm , 30.3inch-40.9inch

Upper bust
73cm-100cm , 28.7inch-39.4inch

Waist
57cm-84cm , 22.4inch-33.1inch

Hip
98cm , 38.6inch

Skirt length
137cm , 53.9inch

Skirt waist
58cm-83cm , 22.8inch-32.7inch

Skirt hem-width
300cm , 118.1inch

The width of the edge of the red skirt
5cm , 2inch

The height of the ribbon
30cm , 11.8inch

Width of the ribbon
32cm , 12.6inch

Bustier length front
33.5cm , 13.2inch

Bustier length back
22cm , 8.7inch


The size can be corrected at the time of purchase.

Click here for an explanation of the size

① Posterior full length: From the back of the neck to the front hem
② Length: From the top of the dress to the front hem
③ Dress length: From the back of the dress to the long hem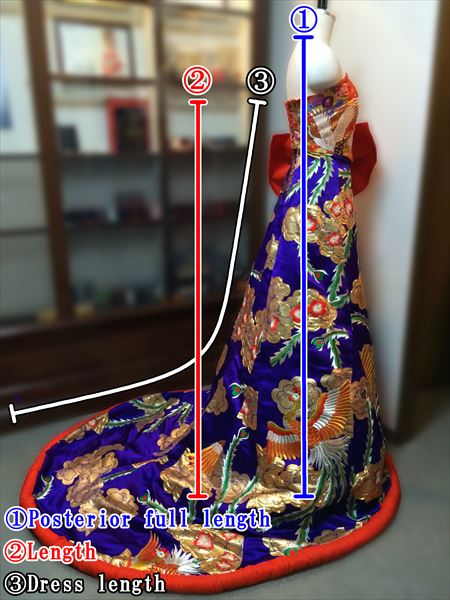 Upper bust: The distance of one round of the top of the chest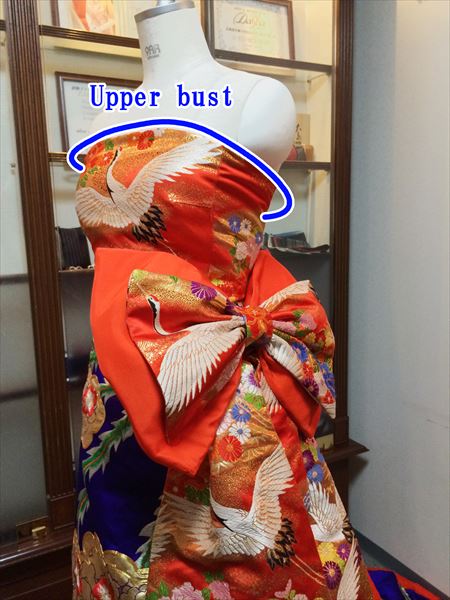 Separate type top length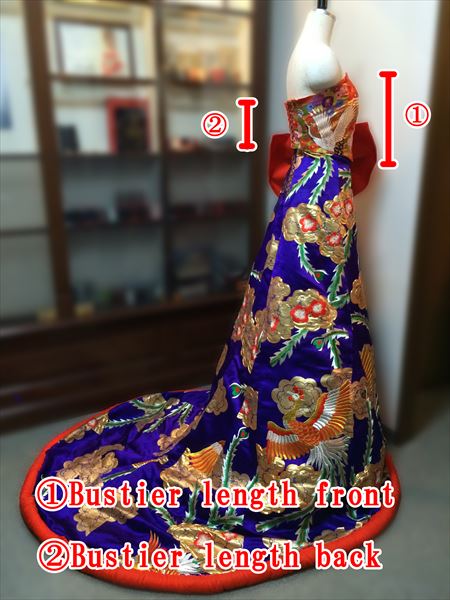 Fashion show model shooting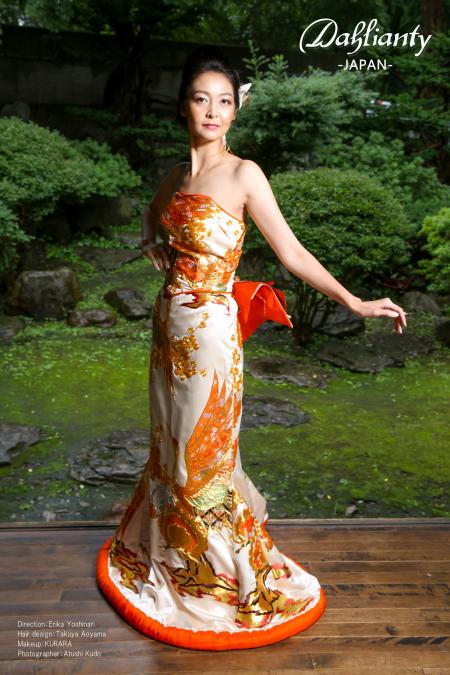 Improved silhouette in 2020
Gold embroidery is gorgeous, perfect for wedding dresses and concert costumes.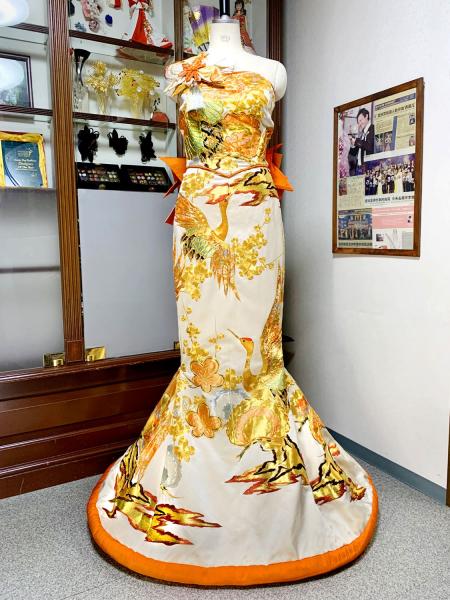 Seems the uchikake kimono worn gorgeous and atmosphere you will shine even more.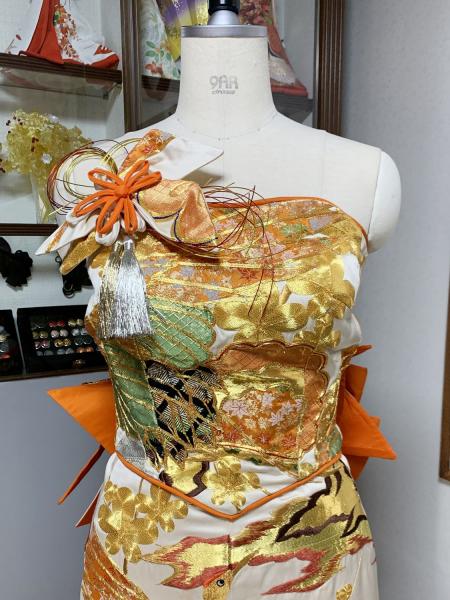 Design is a simple wave line.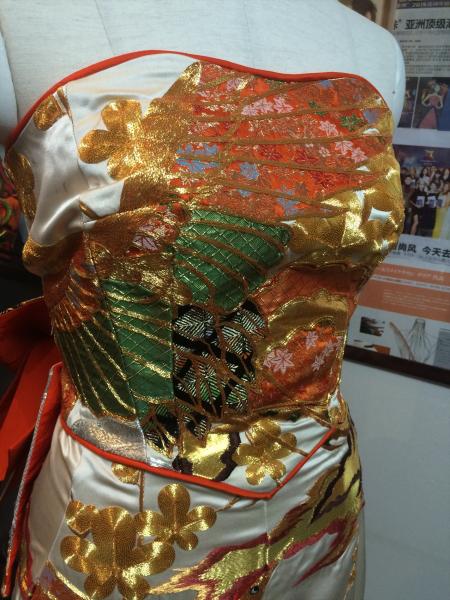 On the chest is a little red piping and Red kimono dresses close to orange.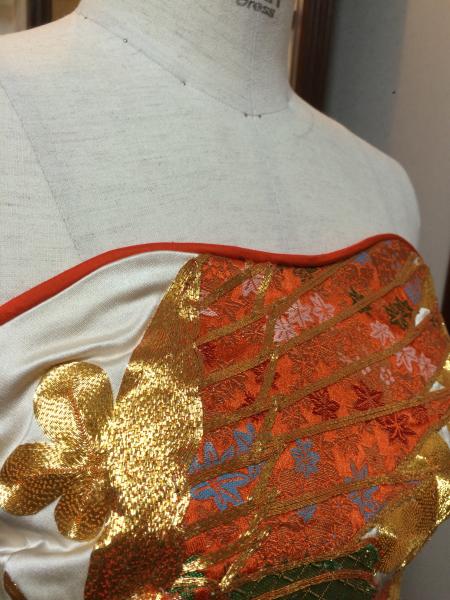 Bustier under a little sharp, fashionable feeling up.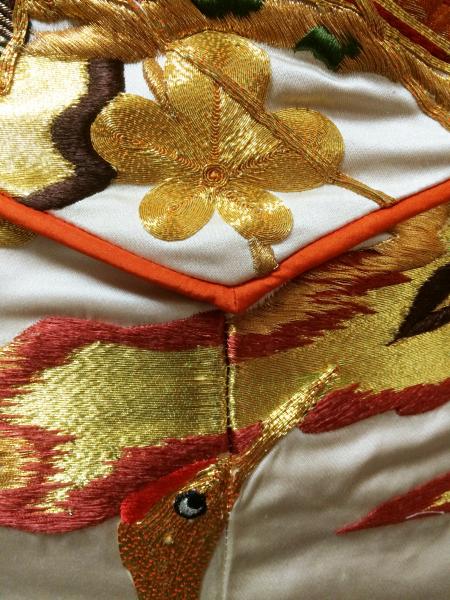 Mermaid is beautiful.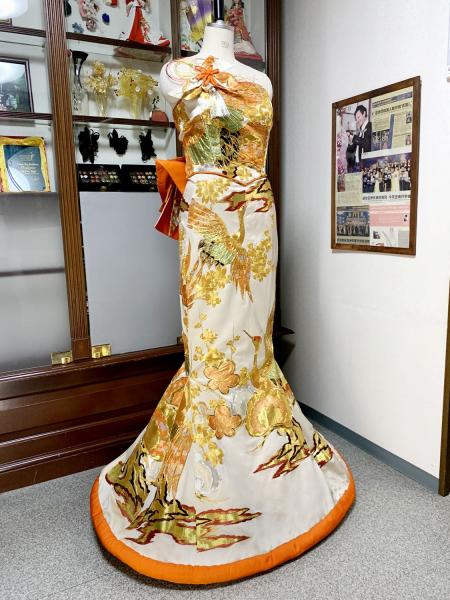 Kimono feel reflected dress intact.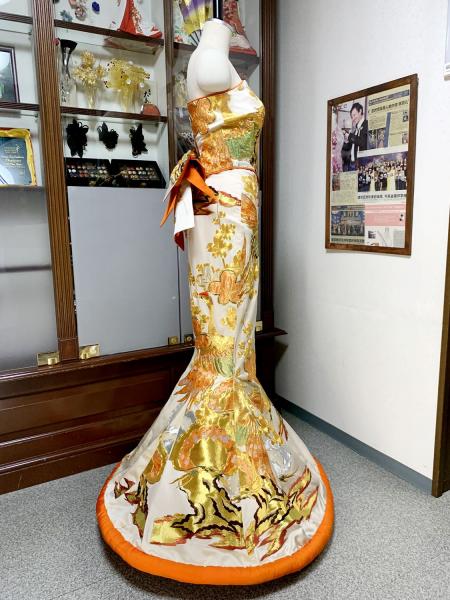 A new style is not just Kimono remake kimono dress.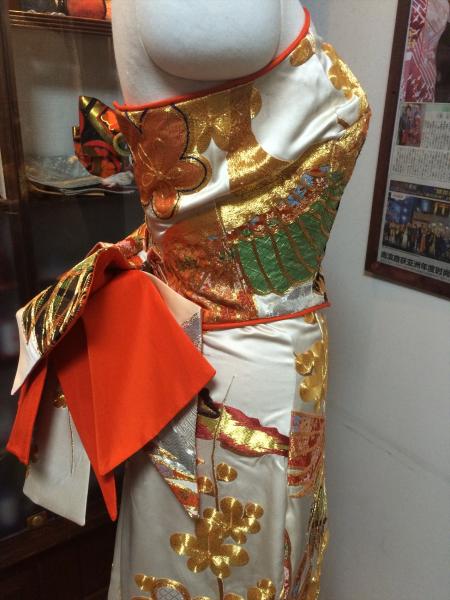 Random Dahlianty original design Ribbon.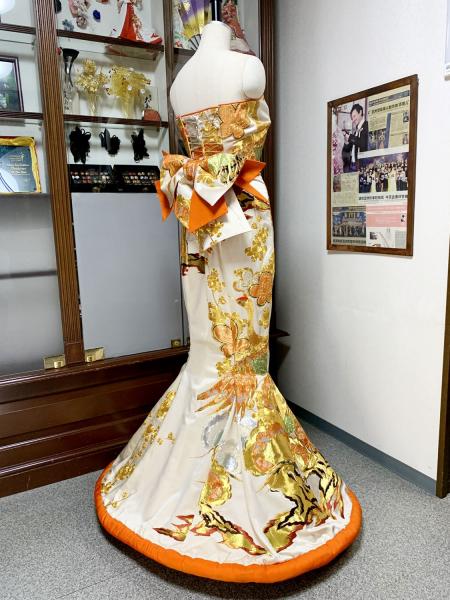 Red meat color is accented, the Ribbon is on your own can be removed to and, like installation is free.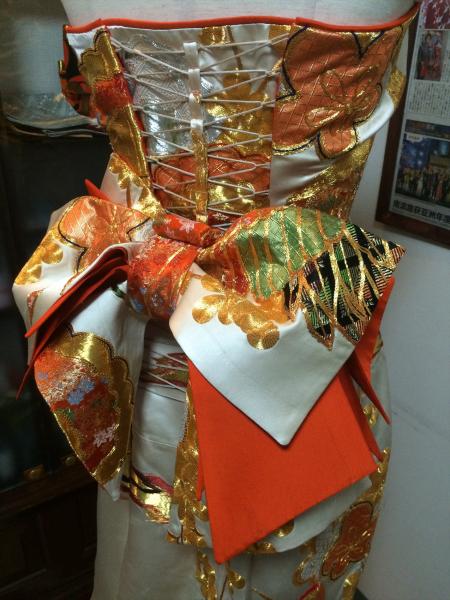 Dahlianty can customize your size when purchasing a Kimono Dress.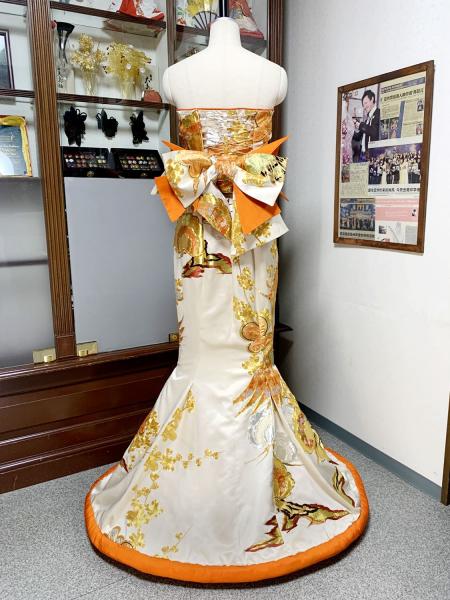 Provides a tailored fit so you can adjust the size.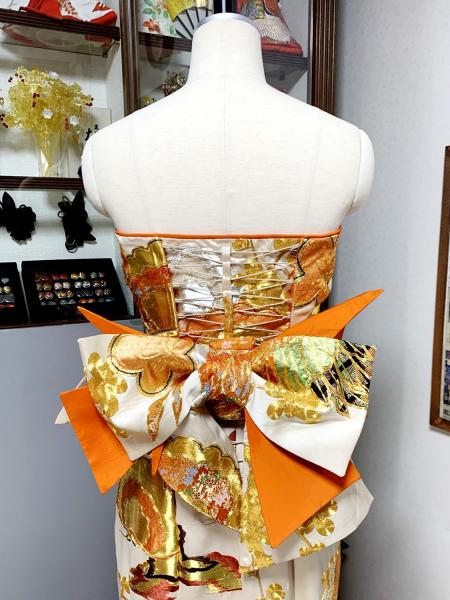 Red rim kimono uchikake kimono image to the hem, and volume and produce a feeling of luxury.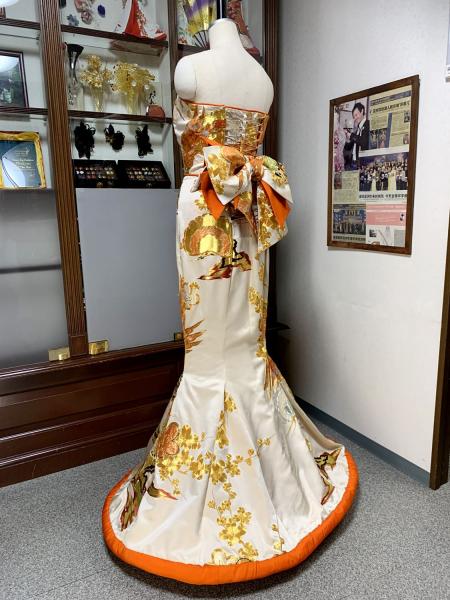 A pair of very nice contrast of red and beige.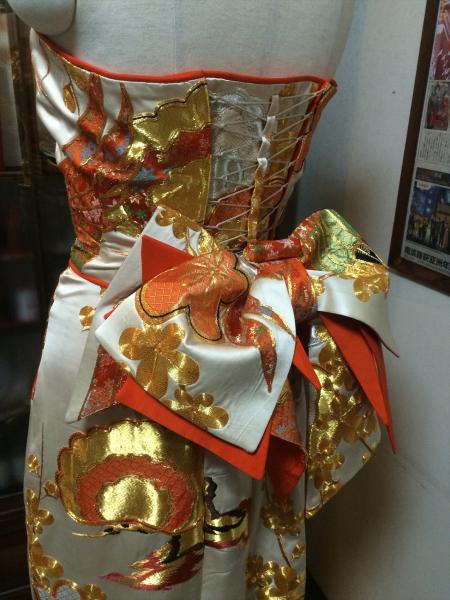 Also fine firm in design.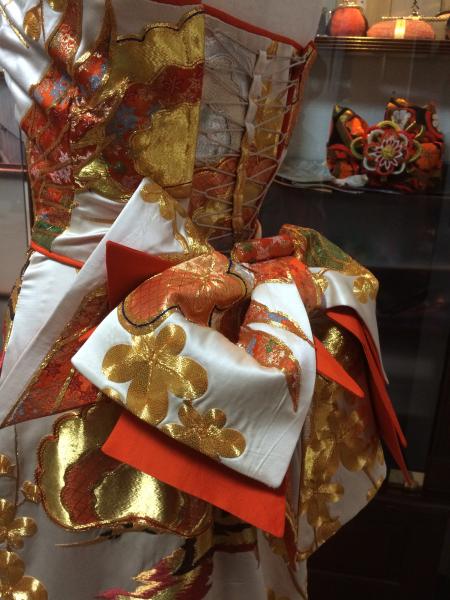 Size adjustment in their sharpness of taste in is glad also that you can wear.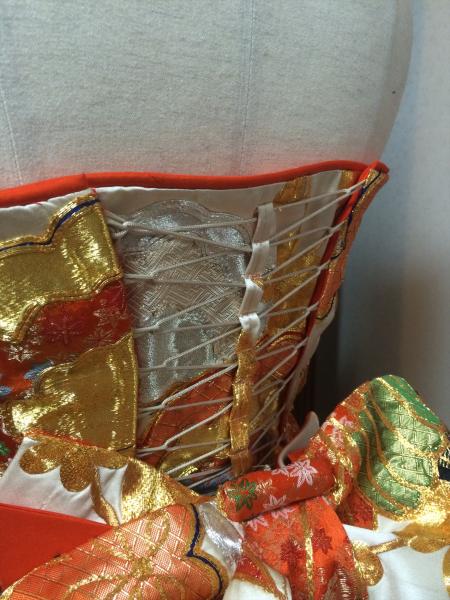 World of kimono has represented intact as possible so the pattern of the kimono.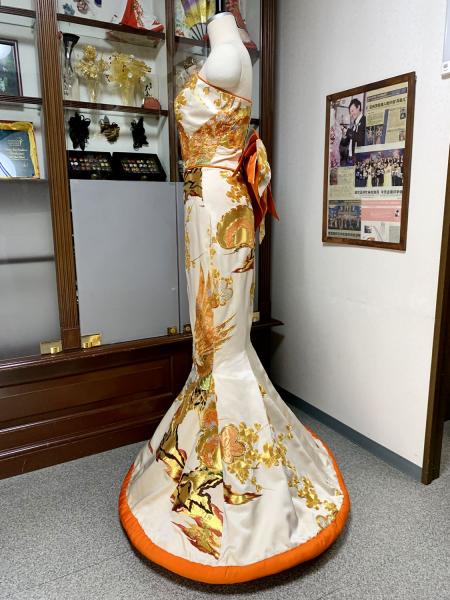 Ribbon puts a little upwards, there is a sense of depth.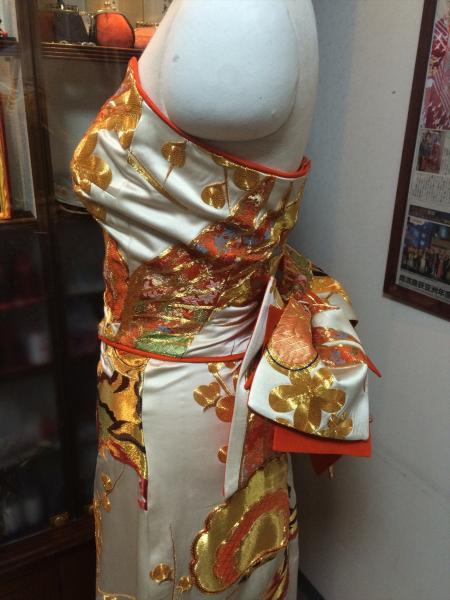 Very nice, as a wedding dress wedding kimono dress recommended..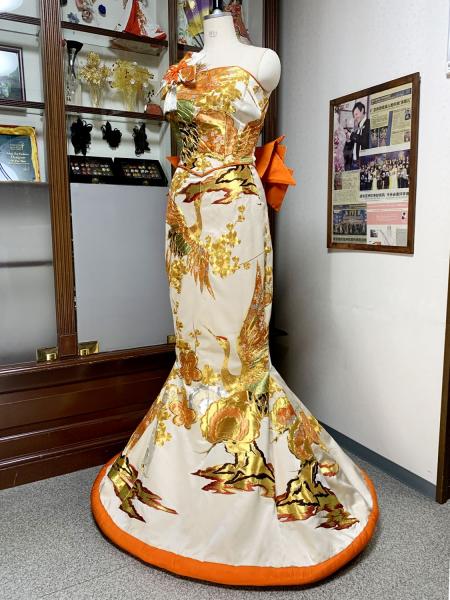 Japanese style that you can feel Japan with Japanese traditional costumes.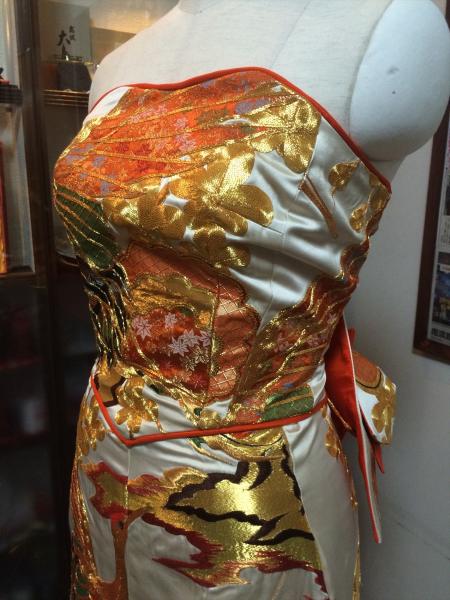 Renumber them to where you want the Ribbon, freely.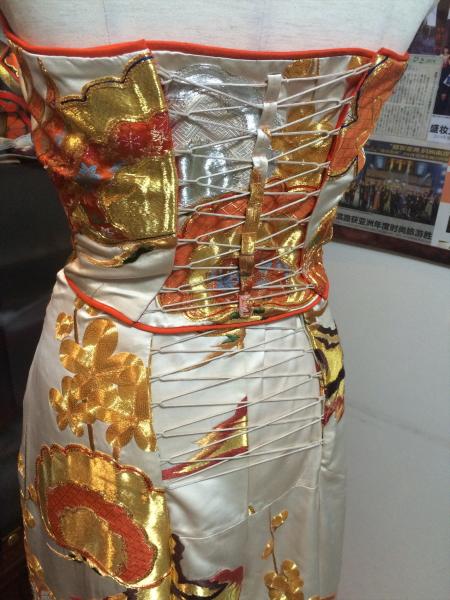 Kimono State more firmly connected pattern.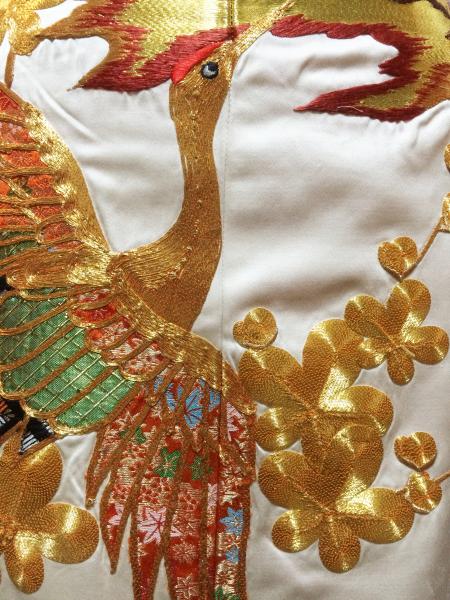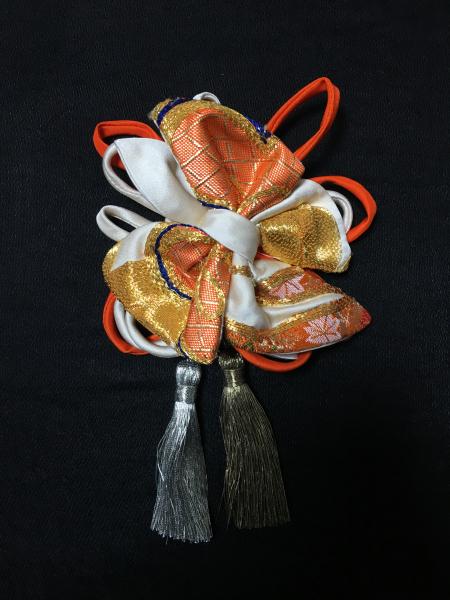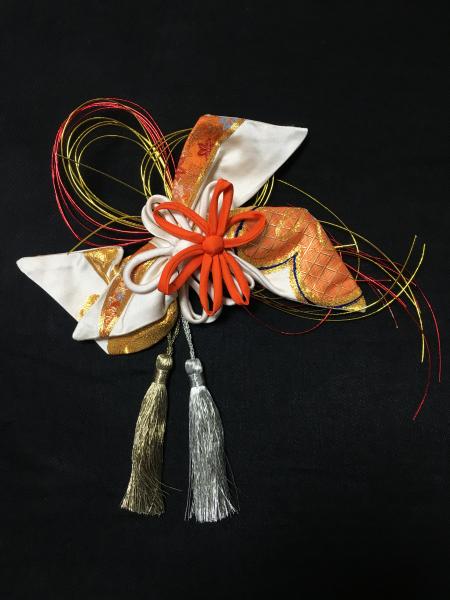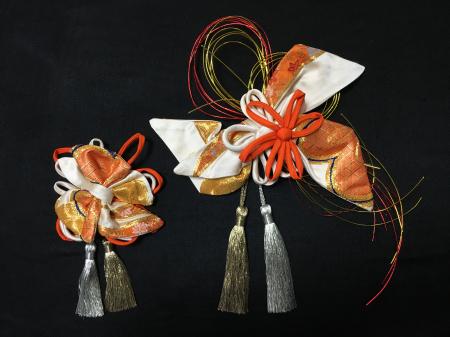 Fashion show model shooting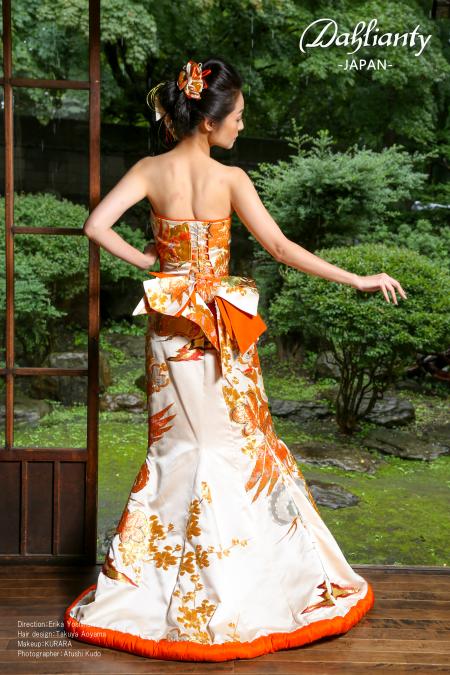 Fashion show model shooting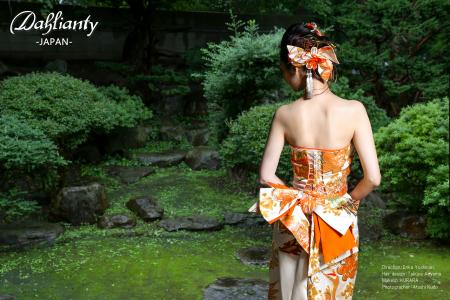 Tie this pattern is craftsmanship it is.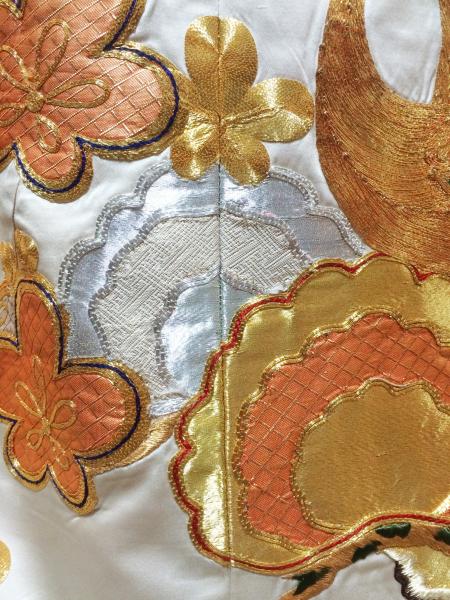 Kimono in the original state.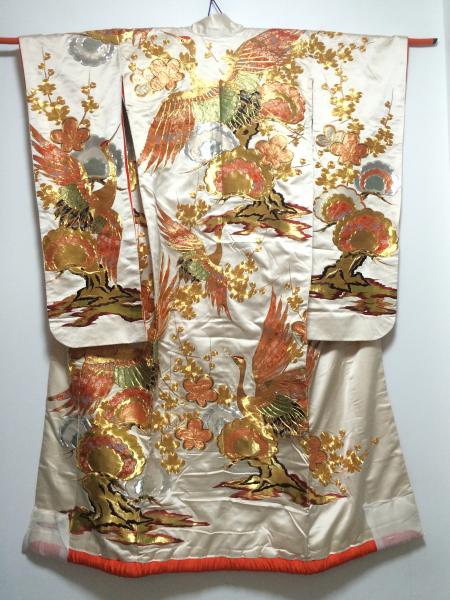 Lined red, Orange, silk.
Gorgeous lining of kimono using intact.